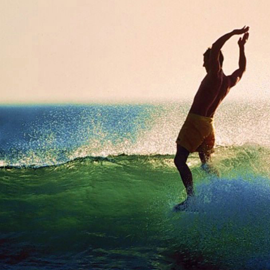 I first experienced surfing in 1975 in St. Ives, Cornwall when I caught my first wave, this then progressed on to a point where later that year I experienced my first surf on the Kent coast in Broadstairs. I then have surfed all over the world and owned numerous large surf businesses.
What is surfing to me as an individual it is an outlet for anxiety and stress, an inlet for nature and satisfaction, a connection between my soul and the ocean, with the surfboard acting as some semi-conductor of magnetic and gravitational forces pulsing from the centre the sprawling expanse of nature itself.
What is surfing but a connection to something beyond our understanding? It's this connection that's at the very core of the surfing experience. This connection is addictive, all-encompassing, and sometimes all-powerful. This connection enthrals me to emerge throughout my life down the line, weather-beaten and with memories of great waves and great times.
I am a longboard surfer, I enjoy the grace of the wave, the thrill of the surf and the fun of the conditions that I find myself in. I like the glide up and down a wave like Pelican, with peace with the ocean and enjoy the thrill of the cruise. This has also brought me tremendous respect for the ocean, its conditions and the history of a sport that I have now been involved with for over 4 decades.
Real traditional surfers don't need a team or a game to test their mettle. In the real surfing world, we are simply rider, board, and a fluid, uneven, and predictably unpredictable playing field, an unfeeling surface ready to swallow you whole or spit you out in shreds onto the sand, or worse, lay dormant and leave you lost and dry among the landlocked masses who have no understanding of why you get up at dawn in the splitting cold for nothing more than mushy wind swell – that's what's so great about it.